Meet Dr. Tiffany Harris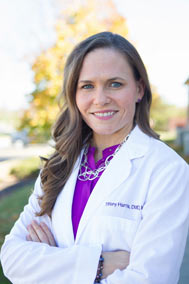 Dr. Tiffany Harris is a native of Northern Kentucky. She attended Indiana University at Bloomington where she obtained a Bachelor of Science degree in Biology. Following graduation she matriculated at the University of Kentucky College of Dentistry where she graduated with High Distinction. After earning her Doctorate of Dental Medicine (DMD), Dr. Harris completed a residency in Periodontology at the University of North Carolina Chapel Hill where she earned a Master's degree and Certificate in Periodontology.
Professionally, Dr. Harris is a Diplomate of the American Board of Periodontology. Dr. Harris is also active in organized dentistry through the American Dental Association, the American Academy of Periodontology and the Academy of Osseointegration. She is on the Advisory Board for Western Ohio Study Club (a Seattle Study Club Affiliate) and an adjunct faculty member at the Cincinnati Children's Hospital and the University of Kentucky College of Dentistry.
Dr. Harris is happily married to Ryan and is the mother of 4 beautiful children. In addition to her careers as periodontist and mother, Dr. Harris enjoys skiing, hiking, nutrition, cooking, and traveling.